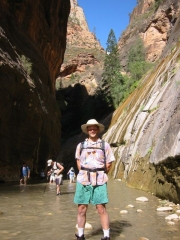 So when you're coming into Zion park by car, case come in from the east, and play some Bob Marley on the radio. Trust me.
On my first visit in the late 1990's, we stayed at the Watchman campground, which has it's benefits because you can make reservations there, and it is walking distance to the quaint town of Springdale which has numerous services, including some nice open air cafes. It's my favorite gateway town to a National Park  – with a lot less sprawl and hubbub than many of the other ones. I've since learned, though, that the South campground just up the road is the better choice, because it is much quieter (due to less RV traffic), away from the main road, closer to the river, and has nicer more shaded tent sites. Unfortunately, it is first come first served. At the time we stayed here, it was still possible to drive up the zion canyon and stop at the overlooks and park at the trailheads. Those days are long gone, now you must take a shuttle bus from April to October (which did a great job at reducing congestion I must admit).
Most of the action in this park is in the canyon. There are several notable hikes and attractions here, but plan ahead – since you won't be able to bring your car (unless you stay at the Zion Lodge – which we did several years later). The weeping rock is here, a trail where you walk under ledges that drip with pure water filtered over thousands of years through the porous sandstone. The angels landing trail takes you up to the summit of a mountain, past an incredibly engineered series of switchbacks called "walter's wiggles", and to the summit where you traverse a 2 foot wide path with hundred feet dropoffs on both sites – with only a metal chain in the middle to hold on to. The views from this point are simply incredible (google angels landing to see more).
But my favorite thing here (and perhaps in any park) is the  Narrows Area and it's signature Riverside Walk. This trail would be more appropriately named "the in the river walk" because that's what you do. You hike in the river, which is sometimes more than waist deep, with dramatic orange canyons on both sides, through a series of narrows and beaches and side canyons that reveal more of the incredible area geology. I didn't bring by camera when I hiked this trail since it was not waterproof, but I was very fortunate to meet a couple with a digital camera who kindly took my photo and emailed it to me , so I do have a shot of the area. It's also important to note that you must check the conditions at the ranger station, because a rainfall 100 miles away that you will never see (and when the sky is totally blue), can suddenly create flash floods here that have been known to sweep people away and drown them, like in an episode of "Man Vs. Wild". So caution is prescribed.
Another note about the "Zion Lodge". It's more of a motel, with simple rooms, not so high prices, a great location, and the nicest front lawn of any place I have ever stayed. Even if you don't lodge here, have a go on the lawn. It reminds me of the "Sheeps Meadow" in my hometown of New York City, with a steady stream of international visitors and music and laughter.
My favorite things to do here
Riverside Walk
Angels Landing
Things I want to come back to do
Horseback Ride
Kolob Canyon section of the park
Fun Facts
Originally called Mukuntuweap National Monument
124,000 new acres added by President Obama in 2009
National Park Service Website: http://www.nps.gov/zion/
NPS Map: http://home.nps.gov/applications/hafe/hfc/carto-detail.cfm?Alpha=zion