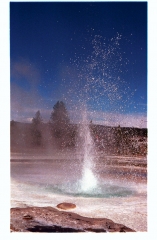 The first National Park (in ANY country), and what arguably is the most beautiful place on earth. Yellowstone must simply be experienced to be believed. At 2 million acres, it's larger than a couple of US states. At over 3 million visitors a year, it's more populous than many major metropolitan areas. The park is located in three states. But the nice thing is, it's not overwhelmingly big (like some of the Alaska Parks). This is in part due to the fact that the park is broken up into  several distinct areas, each with different character and things to see and do. The areas are Mammoth Hot Springs, Old Faithful, Canyon Village, the Lake areas, and Tower Roosevelt (described below roughly from North to South). All areas are connected by a massive loop  (310 MILES of paved road!).
Mammoth Hot Springs
Coming in from the North entrance (from Billings Montana) and the famous stone gateway arch, you first arrive here. It's a little village, with stone buildings, still in use or tourable. Elk walk freely around the sidewalks. There is a lodge here, with affordable rooms (a room with shared bath is around $80). We really liked our room here, it's very basic, has a sink and 2 beds, and 2 electrical outlets (one of which you need to plug the fan into, the other for the digital alarm clock). Don't worry about charging your cell phone here though, since it won't work anyway in this and many other parts of the park). The lobby has a giant wall map of the united states in the 1800's, all made out of different species of wood. There is a visitor center here, and access to the hot springs trails, which are boardwalks and stairs that let you get close to the springs. They are not geysers, but there is running hot water, and some of the associated multi-colored pools of water. Best to park at the lodge, and walk to the springs (10 minutes). Otherwise, it can get very busy and hard to park near the attraction. It's pretty big, you could definitely spend a day exploring here. On your way out towards the next location, check out the horse stables, and take a ride if you have the time and money. We had neither our last trip, but plan to be back! This is one of the only sections of the park that is open in the winter.
Tower Roosevelt
This is the area you will come to if you come in the popular northeast entrance (most common entrance for people coming in from the east coast. This area is famous for the large waterfall, and mountainous terrain. I didn't come to this section in my 2009 visit, and only spent a bit of time here on the way in in the early 2000's, so I don't remember much beyond the falls.
Canyon Village
This is another area I did not spend much time in either visit, and will certainly revisit in the future. It comprises the "grand canyon of the yellowstone" which is where the park got its name. The canyon, cut from the yellow rocks, has formed upper and lower falls, and they are a highlight of this area. It takes a bit of a hike to get into the overlooks, but you will be rewarded with spectacular views.
Fishing Bridge
You can't fish from this bridge anymore, nor did we see fish here. But we enjoyed this section, the bridge has a staircase at the east end that brings you down right to the water (the steps continue underwater if you are brave), and we saw pelicans here! There is a visitors center, and a well appointed store. If something is wrong with your car, this is the only garage we noticed in Yellowstone, so best to have it looked at. We saw several tow trucks arriving with disabled vehicles here, a testament to the notion that you want to come with a car in good service when you are traveling here. From fishing bridge, you can take the loop road which runs right next to yellowstone lake, down towards west thumb. This is one of my favorite drives, with vast stretches feet away from the lake, and uninterrupted views.
Old Faithful
This is the part that you've seen on tv, and is the most famous section of Yellowstone. Home, of course to the Old Faithful geyser which erupts every 90 minutes or so (check the ranger station board for "prediction" times, which are good within 20 minutes most of the time. But the old faithful is just one of dozens of geysers in this section, and it's worth it to experience them all. There are boardwalks that bring you around to all of them. You could spend days here and still not see them erupt. Or you could see 5 go within an hour. They are just not as predictable as Old Faithful. On my last visit, I was fortunate enough to see the Lion Group erupt, as the crowds were gathered a half a mile a way for old faithful – I had climbed the trail to get a different view (since I've seen Old Faithful erupt a dozen or so times from the viewing area and seats around it) and it just went off as I passed. That's the kind of experience I love at this park. If you can, stay at the Old faithful inn – right next to the geyser (with some rooms having views). Don't confuse this with the old faithful lodge, which is nearby, but newer and more commercial. The inn is an honest to goodness national historic landmark, and you can see from the photo gallery why. The entire middle is open, and built from rough logs and sticks, and gives you the sense that you are in  a whimsical tree house (there even is a tree house a few stories up at the top, but it has been locked for decades because of safety reasons, and is only enjoyed by a few guests a day lucky enough to go up with staff to put up and remove the flag from the roof each day). You can sit by the fire here, find a chair by a balcony, or even use one of the antique writing tables to sit down and write an actual letter, with ink and pen, like we saw a few people doing. (don't count on your blackberry working "faithfully" here!). Guests also sit outside on the second floor porch, which has a perfect view of the geysers. The rooms are pricy, but the experience is once in a lifetime.
West Thumb
This area includes grant village, and is on the west side of yellowstone lake. This is like a ski-resort kind of place, (minus the skiing), with a bunch of different buildings that have small motel rooms in them. We found them to be dated, and our least favorite of the lodges we stayed at. And they were even more expensive than the simpler, nicer room at Mammoth. This area does boast easy access to one of the most unique geyser groups (west thumb geyser basin) which has geysers and mud pots right along the lakeshore (and sometimes in the lake itself!). This shouldn't be missed. It's also close to the bridge bay marina, where you can rent a motorboat at a reasonable price ($52 including tax per hour in 2009) which has wheel steering and a decent 60 horsepower 4 stroke engine. We had a great time out on the lake with one of these. Just be wary of the larger tour boats, who in several cases did not yield the right of way to us, or stay properly in the channel).
Other Areas of Interest
Other parts are simply found between the major attractions. My single most favorite thing in Yellowstone is Grand Prismatic Spring in the Midway Geyser Basin. The one way Firehole Lake drive  takes you on a 3 mile loop out of your way, but it is quite worth it. My wife & I agreed that the Firehole lake trail and Steady Geyser, towards the end of the road with views of the lake, was our favorite thermal area. Small, but really intimate with boardwaks that go right over the bubbling water, waterfalls of steaming liquid, and a return trip that involves walking right through the steam, being blown by the lake. Also the Madison information station (and Junior ranger station) has a picnic area, a really cool stone cottage with interactive exhibits, and there are often buffalo down by the river behind the station, and you can use their telescopes to get a closer view, all with the great backdrop of National Park Mountain.
My favorite things to do here
Things I want to come back to do
Fun Facts
The whole central part of Yellowstone is an active volcano, that may erupt again someday!
National Park Service Website: http://www.nps.gov/yell/
NPS Map: http://home.nps.gov/applications/hafe/hfc/carto-detail.cfm?Alpha=yell