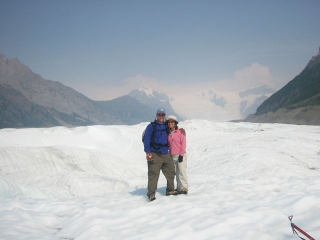 Ok, pop quiz. What's the largest National Park in America?
a) Yellowstone
b) Yosemite
c) Grand Canyon 
d) Wrangell-St.Elias
If you're like most people, you said Yellowstone, which is 2 million acres. But it's not anywhere near as big as Wrangell-St. Elias National Park in Alaska. 13,175,901 acres (larger than 9 US states in fact!). Everything about this place is big. Except the road system, which is virtually nonexistent. You can reach the park visitor center via Alaska rt 4, which is a pretty big road. But if you look at the map, you realize that the visitor center was just placed there so it was near a road. It's not really near any of the resources. It's a really nice modern visitors center with well thought out exhibits (kids will love it). And there are  some stunning views in the area around the center, and a few short trails. But to really experience this park, you basically need an airplane. Fortunately, you can hire one out of the airport at Chitina, about 80 miles south by road from the center.
You can also drive from Chitina into the town of McCarthy which is close to Kennecott, where the second visitor center is. But you can't do it in a rental car (it's against all their regulations). And if you use your own car, there's a good chance you will lose a few tires because the "road" used to be a railroad and there are broken ties and stakes and nails all over the place.  So most will fly in, which is what we did.
The little town of McCarthy is like a scene out of "Northern Exposure", only much less developed. Dirt roads. 2 hotels. A few places to eat. Hardly any cars. Dogs running wild. This is a frontier town, in the truest sense of the word. And it connects via a shuttle (or hike) with the town of Kennecott – an abandoned Copper mining company town, now operated by the national parks service. The main mine building is still standing, and you can even go in, but you have to go via a tour guide, it's not safe enough to just roam through on your own. This place is HUGE. Think old stone mill, but the size of a city block. And several hundred feet tall, built into the side of a mountain. The tour of the downtown is fascinating here, lots of Alaska history.
For scenery, the same tour company will take you out on the glacier. You don't get many chances  to walk on a real glacier (even in Glacier National Park), so here's your chance. They equip you with crampons and other safety gear, and will take you out for a guided tour. We just hired a guide to take the 2 of us, and that was a lot of fun compared to having a giant group, so I'd recommend that.
Now, for all that talk about how big this place is, the average person really can't walk around in much of it. But the views from the airplane are stunning. Meandering glaciers with deep blue pools of water. Mountain peaks upwards of 16 thousand feet (the largest collection in the American Continent) . As an average tourist, you don't get to DO as much as you can in most national parks, but you get to SEE a whole lot!
My favorite things to do here
Tour the glaciers from the air
Things I want to come back to do
Fun Facts
Mt. St. Elias (18,008 feet) is the second largest peak in the United States
National Park Service Website: http://www.nps.gov/wrst/
NPS Map: http://home.nps.gov/applications/hafe/hfc/carto-detail.cfm?Alpha=wrst