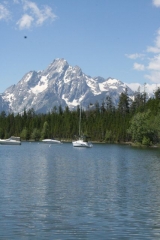 Somehow the first time I went to Yellowstone, I didn't know to exit via the south which adjoins Grand Teton National Park. I won't make that mistake again. This park is drop dead gorgeous. With scraggly peaks, pristine lakes, marinas with sailboats, and picnic areas with views right out of "the sound of music",  you can get lost here – and I mean that in a good way!
From the north, you'll notice some stunning picnic areas, and then you can stop by the leeks marina, complete with a pizza parlor. As a sailor, I like to admire the boats, and it's rare to see so many in a National Park (the main Yellowstone marina for instance has a bridge at the exit that prohibits easy sailboat use).
Next is the Colter Bay area, with plenty of campsites (arrive early!) plus some other cabin type lodging (book ahead). The visitors center here is hectic, but a walk that starts on the back porch takes you down to the lakeshore and various little inlets and trails that make their way through the area. You can't go wrong here, it's all beautiful.
Next stop the Jackson Lake area (we had to visit the medical clinic, which was well appointed and staffed). Across from the clinic are the stables from which your equestrian adventures can commence. Also here, the Jackson Lake Lodge. I came in here to use the restroom and to scope out the lobby for a future visit. And, wow! When you come up the stairs from the driveway and into the lobby, you are met with a set of picture windows that are several stories tall and frame an unbelievable view of Mount Moran. If the rooms all have similar views, we will be staying here next time. There are also tons of trails right outside the lodge.
We took a detour down a one way street to see the Jenny Lake Lodge, but they have signs saying nobody but registered guests and I couldn't even get near the place to see what it looks like. I was curious because I had called for a reservation and was quoted a rate of $600 per night (we ended up staying just south of the park in Jackson Hole Wyoming)
The Jenny Lake visitors center is quaint and intimate, including some really interesting timber frame construction. Next to it is a small general store, a bit overpriced, but had a decent selection of trail mix. There are many trails in the Jenny Lake area for day hikes.
Further south is the brand new and architecturally unique Craig Thomas Discovery and Visitors Center. They clearly put some bucks into this, and it's beautiful. Lots of informative exhibits, videos, a "green" building, a movie, and rangers to answer all your questions. Don't miss this center, it's the most modern and well designed one I've seen.
South of Grand Teton is Jackson, Wyoming (which many people call "Jackson Hole"). It has a great vibrant downtown, and plenty of places to say, many in the $125-$150 range.
My favorite things to do here
Visit the marinas
Many hiking trails
Things I want to come back to do
Jackson Lake Lodge
Jackson lake camping and trails
Jenny Lake trails
Fun Facts
Tetons are mistakenly named for a range in Idaho, and are from the French word for "nipples"
National Park Service Website: http://www.nps.gov/grte/
NPS Map: http://home.nps.gov/applications/hafe/hfc/carto-detail.cfm?Alpha=grte