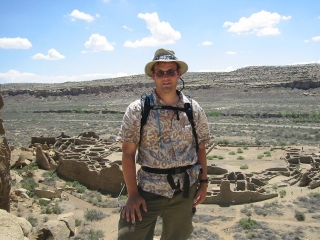 Another in my top 5 list of parks. This one is out of the way (really – the only way in is via a  L O N G  washboard dirt road) but it's worth the trip! Great camping, hiking, thousand plus year old ruins, and an honest to goodness star observatory await those who brave the road and the elements. We found some good mountain biking spots here too, mostly along roads shared with cars – but there are so few here that it doesn't represent a big hazard.
This is a big park, and you could spend many days here, and still not see everything. But some hikes stand out as being exceptional, even in the context of their being Nationally protected areas of interest.
And in case you're wondering why there is  a large telescope here, there are 2 reasons. One is that the peoples this place commemorate clearly used the stars and heavenly bodies to plan out where their cities were, and even how buildings were aligned within those places. Secondly, since we are hundreds of miles from civilization, and the air is dry – nighttime skies are clearest I have ever seen. If you live in the country, you will still be impressed. If you are from a major city, you will be amazed at how many stars there really are. They open the telescope  up at night, and you can actually use it (with some guidance). I actually saw the rings of saturn here. In great detail.
The other thing that always amazes me is that there are corn cobs in the ruins that have been there since people stopped living here. And that was over a thousand years ago. Reminded me to not try to compost those things…
My favorite things to do here
Camping at Gallo
Observatory at the visitors center
Pueblo Alto loop trail
Tsin Kletzin loop trail
Pueblo Bonito
Things I want to come back to do
Fun Facts
People moved out of the area around 1140
National Park Service Website: http://www.nps.gov/chcu/
NPS Map: http://home.nps.gov/applications/hafe/hfc/carto-detail.cfm?Alpha=chcu