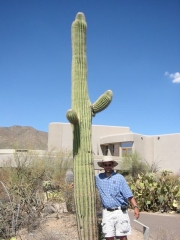 If you've seen a western, and you've seen the cowboys riding in the desert, you'll inevitably have seen the Saguaro cactus. It's the kind that is barrel shaped, with "arms" that come out, and if you put a hat on top it might just look like a person. In the right light. If that person was 25 feet tall.
And then when you travel, you'll notice that you don't really see these cacti all over the place in the desert. That's because they are confined to the Sonoran desert. And Saguaro National Park is a pristine slice of that desert, perserved for us to enjoy.
This park is divided into two units, East and West, and about 35 miles apart (with Tuscon Arizona roughly in the middle). I only saw the East Unit on my first visit to the area (most of our day was taken up at the nearby Desert Museum which is also a must-see) – so I had to come back years later to see the west unit.
The west unit is large, but the easily accessible area is in the west side of the park, in the form of a visitor center, loop road, some picnic areas, 2 short  interpretive trails  plus access to longer backcountry trails. The visitor center is one of the more beautiful architecturally, and worth a visit. There is a great movie, and something quite dramatic happens at the end of the movie – but I won't ruin the surprise for you – you'll need to go visit yourself. I drove the loop here, and also did the short desert discovery trail. It was getting on sunset – which was great for the views, the cacti are tremendously dramatic at night – but they also close at night since people evidently steal these cacti since they are really valuable to sell to landscaping companies. So this was not a long visit, but a memorable one.
My visit a few years later to the east unit was a bit longer, and in the middle of the day so we could really experience the desert heat. This area also has a visitor center and a loop road with pulloffs and trail access. Freeman Homestead and Desert Ecology are the small trails, and we took both of them. It's great to get out of the car and among these amazing plants.
My favorite things to do here
Things I want to come back to do
Some of the longer trails such as the Cactus Forest Trail in the east unit
Fun Facts
The park averages 65 degrees Fahrenheit in the winter
National Park Service Website: http://www.nps.gov/sagu/
NPS Map: http://home.nps.gov/applications/hafe/hfc/carto-detail.cfm?Alpha=sagu