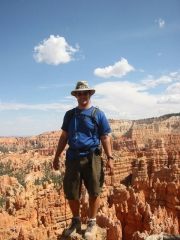 This is my wife's favorite National Park, and I can see why! Stunning views. Unusual formations. Colors that seem impossible. Modern campgrounds. A nice lodge with restaurant. A bus system to get you around the canyon. This place has everything.
Our stay at the campground here was very pleasant, except that our site was on a hill and none of it was flat. So our tent was pitched on an angle, causing us to roll around all over the place inside when sleeping.
Had a great meal at the lodge here. If you have kids (and we did not at the time) you will love the idea of riding down into the canyon on sure footed mules. We saw many happy families taking these tours. Ourselves, we preferred walking, and the trails inside the canyon are like none other that can be found on earth (with perhaps the exception of the nearby Cedar Breaks park). Here "hoodoos" in every shade of orange imaginable adorn the landscape, and as you hike in, you become surrounded and one with them. It's just so quiet here (once you descend into the canyon – most tourists stay at the rim trails, which have stunning views but are not the full experience). If you go, you must hike into the canyon, even if you have limited time. Seeing it from the overlooks just doesn't cut it, like it does at Grand Canyon. Of course, Bryce Canyon is much smaller and more managable. 

My favorite things to do here
Navajo loop trail
Queens Garden trail
Sunrise/sunset ranger programs at the rim
Things I want to come back to do
Ride a mule
Complete the entire loop trail
Fun Facts
A hell of a place to lose a cow
National Park Service Website: http://www.nps.gov/brca/
NPS Map: http://home.nps.gov/applications/hafe/hfc/carto-detail.cfm?Alpha=brca