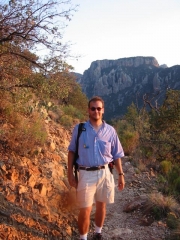 So if you're in Texas, this is a must see – even though it's way off the beaten path of the interstates (I think we needed to take a private toll road to get here). This place is so big, and I was there so long ago, that I don't rightly remember which exact trails I was on. But this place makes an impact, that's for sure! 

My favorite things to do here
Camp at Chisos Basin
Trails around toll mountain
Hiking by the river, Santa Elena Canyon trail
Things I want to come back to do
Raft the river
Check out the Rio Grande Village
Hike to Pine Canyon Falls
Fun Facts
Only 300,000 or so visitors a year (compared to millions in Parks that are less out of the way)
Don't cross the river unless you have a passport. You'll need it to come back.
National Park Service Website: http://www.nps.gov/bibe/
National Park Service Map: http://home.nps.gov/applications/hafe/hfc/carto-detail.cfm?Alpha=bibe