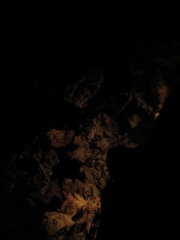 This is actually a pretty interesting place, right between Mt. Rushmore and Jewel Cave. If you are heading south from rushmore, you'll enter the park at the northern entrance and then drive for miles and miles through rugged countryside with an abundance of animals and wide vistas. There are a number of turnouts and access to hiking trails here, particularly the strenuous Rankin Ridge trail loop that leads to lookout tower (I didn't hike the trail since we were trying to make a cave tour deadline, but you can see the tower from the park road, and I can tell that the views from it would be fantastic). We then passed the campground (I wanted to get a site but again we were rushing to make a tour, another reason I don't like parks with timed events).
The visitors center is actually very nice. I made the mistake of standing at the first desk waiting for a ranger to become available for a few minutes before realizing that they don't sell tour tickets there, and there is a separate desk at the far left corner to buy tickets. I say "buy" but, surprisingly, they were FREE with a national parks pass (this is somewhat unusual, since often the pass gets you into a park, but things that cost money like tours cost extra).
So this was a pleasant surprise. Our tour ended up to be 1.5 hours and pretty interesting. We started the tour outside under a shelter where a tour guide told us the rules, and we tried to keep our 4 year olds sitting still and quiet. We also met a couple who ended up knowing some people we know in Ithaca. So small world, again. We then hike to the "original" cave entrance, which you can't go into anymore (you'd have to crawl and be pretty small), but here is the place where you understand why it is called "wind cave".
The entrance of the cave vents cold cave air into the countryside, and this creates the "wind" which makes a howling sound when it gets going fast. One of our boys was very excited by this, and he doubled over laughing, unfortunately hitting his head on the rock wall in the process. Quite hard. The lump was there for a few days. Fortunately, he was ok and stopped crying before we headed into the cave.
Inside the cave (which is accessed via revolving door and an artificial entrance) is pretty much like other caves. The tour is good, but I wouldn't recommend it for small children since there just isn't enough to keep them interested, formation wise, like there is at Mammoth or Carlsbad.
On our way out, we considered camping at the campground, but one of the sections was closed for maintenance and the other sites were basically on the big road, and it wasn't terribly scenic. So we moved on and found a hotel instead. Beware hotels in the area are pricey because of the proximity to Rushmore.
My favorite things to do here
Things I want to come back to do
Fun Facts
First Cave to be designated a National Park, anywhere in the world!
National Park Service Website: http://www.nps.gov/wica/
NPS Map: http://home.nps.gov/applications/hafe/hfc/carto-detail.cfm?Alpha=wica