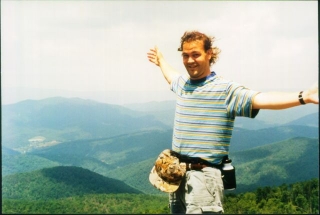 So you don't think there are big mountains and sweeping vistas on the east coast? Think again. This park encloses a 105 mile long section of the blue ridge parkway called "skyline drive" and is one of the most scenic roads you can drive on in the United States. And as a bonus, there's a National Park around you with visitor centers, campgrounds, lodges, picnic areas, and day hikes. You won't go bored here. Did I mention that there is a hiking trail that also parallels the road? So you can do the 105 miles on foot too if you like!
If coming from the North (as people from nearby Washington DC are), you'll start in the town of Front Royal. This town ends up being about 7 hours from where I live, so a good trip will involve a hotel stay first, and then the road can be hit early in the morning. And you'll need all day just to drive through this place. If you want to stop and do other things, you'll need a few nights.
On my trip here, I stayed at the big meadows campground which is a large modern campground in a section of the park which also includes a lodge, restaurant, cafeteria, store, gas, and other services. So you are in the thick of things here. If you want to be more out of the way, there are several other campgrounds with less services and more privacy. I really liked big meadows though. And I think it was the first place I went to that had "bear proof" garbage cans (I grew up in New York City so not a lot of bear proof things there). On this trip, I was headed South through the park, so mostly the trip was driving and pulling off at scenic areas to take in the view and then driving more and stopping more. I have a feeling a lot of people do it this way, and never leave the car. And even if that's the case, it's totally worth it for the views.
Several years later when heading north from some southern travels, I saw signs for the park and detoured through it. This is really not the place to be going through in a hurry, though. So while I was mostly taking the scenic route, I did get a recommendation from a ranger for a medium length hike to one of the famous waterfalls, and this was a nice 2 hour diversion off the beaten path. I did meet a few people on this trail, but not many. There are more than 10 named waterfalls in the park, and I'm not sure exactly which trail I went on. I'm hoping someone will see this post and be able to tell me what falls are pictured here. Thanks in advance!
My favorite things to do here
Driving slow and listening to Jerry Garcia
Things I want to come back to do
Fun Facts
Over 200 species of birds live here
National Park Service Website: http://www.nps.gov/shen/
NPS Map: http://home.nps.gov/applications/hafe/hfc/carto-detail.cfm?Alpha=shen