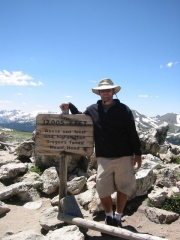 This is simply not one to be missed. Period. I've only been here one time so far, but I didn't want to leave. We arrived via the Estes Park Entrance, Beaver Meadows visitors center. It was the 4th of July weekend, and things were hopping. Rangers directed us to the Glacier Basin campground, which they said might have some room. There were a few sites left, but only for one night. We took the site. Talking with the campground hosts that night, we were told that if you stopped by the office early in the morning, they would have cancellations and what not and would give you a site for the next night on a first-come first-served basis. So I woke up 1/2 hour before they opened, grabbed my camp chair, and headed to the office. Nobody else was there, so I plopped my chair down in front of the window and got to some serious reading. Once they opened, they determined they had a site for another night, and even allowed us to stay in the same site. I repeated this process around  3 more times, so we had excellent uninterrupted lodging for the duration of our stay.
Rocky Mountain Park is great for day trips. There are lots of different areas, and hikes and adventures for a variety of abilities. No matter who you are, though, you need to get acclimatized to the altitude. The campsite is at around 8,000 feet – which is well over  a mile. Fortunately we had been in denver for a few days prior, so we were used to this. Parts of the park, though, are at around 12,000 feet – and not much you can do prepares you for this. I always end up light headed and with a headache at those altitudes. They tell you to drink a lot of water, and that's great, except that many of the toilets even on the developed roads are pit toilets, and Sheila can be so grossed out by this that she doesn't want to drink a lot of water so she doesn't need to use the facilities. And then she gets a headache.
So as I was saying, from our campground base, we did a number of day trips. We went to bear lake, a beautiful pristine area with a number of lakes and hiking trails. There is even a shuttle that goes from the campground to this area, which we took advantage of (there can be a lot of traffic here, especially on a holiday weekend). Another trip was to moraine park, which is a great flat area with boulders and views of the mountains from almost all sides. No trip to Rocky Mountain Park would be complete though without a drive up to the Alpine visitors center, just shy of 12,000 feet. There is snow up here in july! A great place to hike around, there are many trails at the summit. And lots of bewildered looking tourists, gasping for air.
On the way down to the campsite we ran into one of Sheila's school co-workers, just sitting outside the visitors center. It's always funny when you run into someone you know, so far away from home. And if that weren't enough, later down the road we stopped to observe some bighorn sheep and then someone in the other car recognized Sheila and ended up being a co-worker of her mothers! Strange small world!
We ended up at Alpine again the next day on the way out, since it's the top of the main east-west road through the park. Except this time we took "old fall river road" up to the summit. It's a one way dirt road (and I had a 4×4 SUV at the time which some parts of the road kind of needed). There are no RV's on this road. It's rugged, and bumpy, and a hell of a lot of fun!
On the way out, we were headed to Breckenridge  to meet some friends so we couldn't check out all of the hiking trails on the west side of the park. But we did stop right outside the boundary at a place called the "grand lake lodge", with outdoor dining overlooking the gorgeous namesake lake, as well as the Park in the distance. It was really beautiful here. I've always wanted to come back, and perhaps stay in one of the cottages – but I've noticed from their website that the place is up for sale, and there is a notice that they are not taking reservations, so I'm not sure about what their status is. They are only asking just shy of $10 million dollars, by the way, so if anyone is looking for a good birthday present to buy me…
My favorite things to do here
Things I want to come back to do
Fun Facts
The park headquarters at beaver meadows was designed by Frank Lloyd Wright
National Park Service Website: http://www.nps.gov/romo/
NPS Map: http://home.nps.gov/applications/hafe/hfc/carto-detail.cfm?Alpha=romo