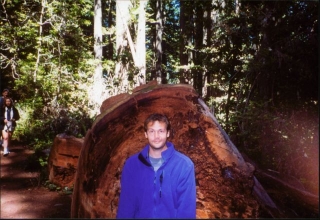 This is an awe inspiring area, with trees that tower over 350 feet (the tallest species on earth)! You can't really even see the top when standing below one of these things! One interesting thing about this place is that it's called Redwood National and State Parks (the only such joint management I know of) because the federal government manages around half of the area and California manages the other half. The 2 parks are intermixed, as you can tell when you look at the official park map – NPS portions are dark green and state portions are a lighter green. But when you're in the parks, there's little to no distinction, so that's why I'm hard pressed to remember which parts exactly I went to. Was the visitors center in the national park? (yes). Were the trails outside the park in the national park? (no!).  Did we camp in a state or national campground (not sure, but it was pricy). The bottom line is that this entire area is not to be missed. It's pretty close to the major coastal California Cities, and if you are traveling north on the Pacific Coast Highway (Calif. rte 101), that road becomes the park road and goes smack dab through the middle of the park. Here, I got to do something I had read about in a Babar book when I was a kid, namely drive my car through a tree with a tunnel carved out in the middle. Not part of the national park, but certainly the same kind of tree.  This area also has a lot of coastal access, but beware – the  tides are treacherous around here. 
My favorite things to do here
Hike amongst the redwoods (aka sequoia).
Things I want to come back to do
Fun Facts
90% of these trees had been logged before 1968 when the park started protecting them
National Park Service Website: http://www.nps.gov/redw/
NPS Map: http://home.nps.gov/applications/hafe/hfc/carto-detail.cfm?Alpha=redw