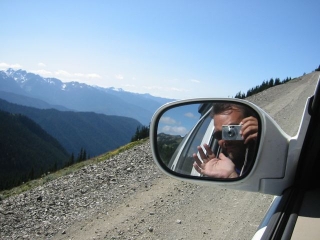 Ok, so you need around a week to see this place. Which was fortunately about what I had. this park, on the Olympic Peninsula in western Washington state, troche defines sprawling. It's one of the parks whose shapes you can make out even on small maps of the United States. So you know it's big. Yellowstone big. Just shy of a MILLION acres big. So fill your tank up before you arrive.
If you're coming from Seattle/Tacoma area, you'll likely take rt 101, and head up the east side of the peninsula. There are views everywhere. the canal on your right and the mountains on your left. You'll see campgrounds, hiking areas, boat launches. Eventually you will come to the town of Port Angeles, and the main Olympic Park Visitors Center. Stop in, you'll want to get advice on what to do.
The park is divided up into a few sections, and to me the main ones were mountainous Hurricane Ridge, Hoh Rain Forest, and the Pacific coast. From the visitors center, you can drive south up into the mountains and finally end up at Hurricane Ridge. Spectacular views, a visitors center, and a number of trails are up here at the summit. I camped in this area for a few nights and then proceeded to Hoh Rain Forest.
There aren't a lot of rain forests in the United States, but the topography and climate here are perfect, so this is something not to be missed. A lot of parks have mountain views, but this part is truly unique. Moss covered trees, babbling brooks, the humid air and constant bird calls – you will feel like you are in South America. And all from a place where you can take a ferry boat to Canada! There is a nice campground here that I stayed a couple nights at, and is a good base for some side trips to the north shore towns and other small hiking trails.
Finally, I got a site at Kalaloch, which is a campground right on the pacific. Some sites literally are on the beach, other have ocean views. Since I didn't have a reservation, I was lucky to get a site in the woods, but it was only a short walk to the beach. This is probably my favorite part of Olympic. The beaches are rocky, rugged, and great to hike on. You need to be aware of the tides though, since you can get stranded if you're not careful. They will help you out at the ranger station. It's not all sandy beaches here, often you're walking on rocks, and when the tide goes out all kinds of creatures are stranded in the little pools left in it's wake. If you like the beach, camp here. It's also close to Kalaloch lodge, which has a store and restaurant, in case you need some culture (or a break from franks and beans as I did at this point).
One really nice thing about this park is that since it's so big, it doesn't seem crowded – even though it's near a metro area. A very different vibe from larger more popular parks like Yellowstone and Yosemite.
My favorite things to do here
Hiking in the rain forest
Walking on the beach
Things I want to come back to do
The lesser known interior hiking trails
The northwestern beaches
Fun Facts
There is a not for profit ski area at Hurricane Ridge
National Park Service Website: http://www.nps.gov/olym/
NPS Map: http://home.nps.gov/applications/hafe/hfc/carto-detail.cfm?Alpha=olym