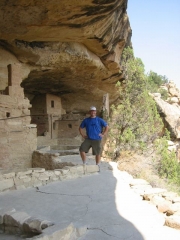 From the moment I saw a photo of this place (probably in National Geographic or something like that), I've wanted to go. I think a lot of people have that reaction. What little explorer can see a photo of brick adobe buildings nestled into caves on the sides of cliffs and NOT want to go and climb the ladders that connect them all?
The first time I tried to go to Mesa Verde, it was closed. This was the summer of 2000, and while fires are common in this area, it was the first time the entire park was evacuated for so long. So we got to sit by the side of the road, watch emergency vehicles scream past, and smoke rising in the distance.
It didn't take too long to get back, though. Around 5 years later I made it to Mesa Verde. And scored a nice little campsite for a few nights. The first thing you notice when you get here, is the camping registration and the showers (you'll need them). Surprisingly you get there before any of the visitors centers, so it's a bit of an odd welcome to this place. (It was possible to purchase tour tickets here, and this is a good idea – it was far less busy than the other centers) The campsites are really nice here. Shaded by trees, and sometimes by the large hills that are west of the campground.
It's worth mentioning that what you are seeing at this park are abandoned ancient Pueblo structures, built in the 1100's. So these things are almost a thousand years old. And you can walk around in them. And they are still standing. And the landscapes are spectacular too. Since most of the tours are guided, the rangers will tell you all about the people who lived here, how they lived, how they built the structures, and what became of them. This is living, breathing history, and you will walk away with a greater understanding of the scope of human history.
So back to the park. Further down the line you get to the Far View Visitor Center. Most will purchase their tour tickets here. And most will head directly south to the Chapin Mesa Museum. This place is very cool, perched on the edge of one of the cliffs, and here is access to a number of sites, pretty close to the trail. If you don't have time to get tickets to the larger houses, visit the spruce tree house here. You can walk, there are no lines, no trams, no tickets to buy.
However, hopefully you've left some time and some money to visit the larger sites, the ones that you most commonly see in the photos. If you have seen a photo, it's probably of "Cliff Palace". This is certainly the largest and most dramatic of the ruins. Nearby Balcony house is also spectacular, and boasts several ladders that you will climb up and down on the tour. Kids will love this (if they are old enough for the tour, I'm not sure what the age cutoff is)
Now if you have another day or two (because if you are able to see even just all the things I've mentioned in a day, you will be either lucky, or rushing way too much), you can head west from the Far View Visitors Center to the Wetherill Mesa information/tram stop. Here you'll get on some mini tram trains and be taken around another little community. You can't walk or bike the trails here, so the tram is the way to go. There are lots of places you can get on and get off and take little hikes. If you want to get away from things, this area tends to be less busy than the other, more accessible site locations. Most people will get off and see "long house" (ticket required) here, it's about as large as the others, and just as beautiful.
My favorite things to do here
Ranger guided tours of the houses
Petroglyph Point trail
Things I want to come back to do
Fun Facts
Many of the houses are not open in the winter months
National Park Service Website: http://www.nps.gov/meve/
NPS Map: http://home.nps.gov/applications/hafe/hfc/carto-detail.cfm?Alpha=meve