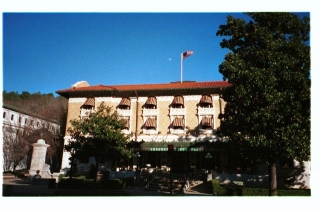 This has got to be one of the most unique National Parks in the system. A downtown area with decades old facilities that collected water from natural hot springs in the woods, and piped it through an amazing feat of engineering to a seres of spas and bathhouses that people came to for their medicinal properties. You basically walk around and tour the area and the buildings. I got so caught up in all the history that I didn't understand  most of the park includes miles around the downtown, and includes many of the natural areas – including the springs themselves. And you can go see them. But you can't bathe in them. Not in the woods at least. Some of the downtown facilities still function commercially though.
My favorite things to do here
Things I want to come back to do
Fun Facts
This is the oldest unit in the National Parks System. 40 years older than Yellowstone.
National Park Service Website: http://www.nps.gov/hosp/
NPS Map: http://home.nps.gov/applications/hafe/hfc/carto-detail.cfm?Alpha=hosp