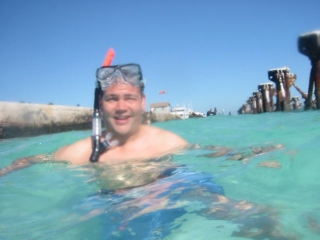 You want out of the way? This park is a fort on one of the Florida Keys. 70 miles west of Key West that is! The only way to go is by private boat, tour boat, or float plane. We used the tour boat – which was pretty affordable (they also gave a discount for national parks pass holders, so try that out). As soon as we got there we were told the weather was iffy so we could cancel and get a full refund (which you normally could not do). But it looked ok to us, and we had ample supply of dramamine, so off we went.
The boat ride over is great, super views of Key West on the way out and then a really pleasant sunny southern Florida experience. When you get there, you have several hours to explore and recreate. And you'll need those hours. After touring the Fort Jefferson, which is quite unique, we went to the South Dock Ruins to do some snorkeling (you can bring your own equipment or rent it off the boat). Lots of fish here in between all the abandoned dock pilings.
Because access is so limited, the beach ends up to be quite private. The fort boats stunning views of the Carribean like ocean, and some really interesting history.
The way back was a bit more interesting. The weather that they had warned us about came upon us, and the seas were up. Many people were sick. We were ok though, and would totally do it again.
My favorite things to do here
Things I want to come back to do
Fun Facts
The fort never saw conflict, was used to imprison war deserters
National Park Service Website: http://www.nps.gov/drto/
NPS Map: http://home.nps.gov/applications/hafe/hfc/carto-detail.cfm?Alpha=drto