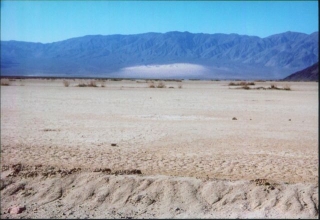 Wow! Death Valley. It sounds like something out of a cowboy movie. And it is. If they had to ride places without water that register the hottest temperatures in the United States. This place is characterized by people driving through in their air conditioned cars – mostly because the park is mainly paved roads, with few hiking trails (besides the backcountry kind which you have to be very well prepared for in this climate).
Regularly, buy you see people on the side of the road in their overheated cars – because besides the heat there are also lots of hills to tax your engine. (the official park map even notates the places you can get water for your radiator). It's no wonder you see a variety of new cars disguised with fake panels with no logos on them. Manufacturers test their cars here, since it's the hottest people are likely to use their cars at. We saw scores of them – and the funny thing is that in the rear seats you can see young engineers all hunched over their laptops, reviewing data from their test drives.
On this trip, we were trying to get from point A to point B, so stayed mostly in the car except for some scenic view areas. The place makes an impression though. Especially when you pull into the Furnace Creek area, and you see the most beautiful hotel with lush green trees and grass, and even an 18 hole golf course. After driving through the colorless landscape, it's the closest I've ever come to seeing a mirage.
Clearly, I will need to come back here to discover more.
My favorite things to do here
Seeing the sights from the air conditioned car
Watching the car test drives
Badwater basin
Things I want to come back to do
Stay at the Furnace Creek Inn and play a round of golf
Experience some of the sand dunes
Fun Facts
Lowest place in the US – 282 feet below sea level
National Park Service Website: http://www.nps.gov/deva/
NPS Map: http://home.nps.gov/applications/hafe/hfc/carto-detail.cfm?Alpha=deva